Every Digital Audio Workstation comes bundled with a ton of instrument and effect plugins. These default plugins are more than enough to get you started. More experience music producers however might want to take it one step further and invest in some essential plugins to improve their productions.
That's why I made this list of 8 essential plugins every music producer needs to have.
Start with one plugin
If you've never bought plugins before, the number one tip I can give is to focus on one plugin at a time. I know it's tempting to buy a whole collection of plugins at once, but I promise you that by restricting yourself to one plugin, you will get to understand it way faster. Even if you do buy a plugin bundle, don't try to use them all at once, start with one, master it, and move on to the next one.
Why buy plugins, when I already paid for a DAW?
It's good to question yourself why you need to invest in plugins. Are you looking for a specific effect that you can't achieve with your DAW's default plugins? That's a legitimate reason for purchasing a new plugin. Make sure to always download a free trial first, before you spend your hard-earned cash.
Another reason for buying plugins is that some of your DAW's stock plugins just don't sound as good. This of course depends heavily on the DAW you use, but sometimes third-party plugins provide you with more options and an easier-to-use interface.
Up next, I will give you one plugin for each category to start with. These are all plugins, I, and many other professional music producers, use on a daily basis. In my opinion, these are the most essential plugins you're ever going to need as a music producer. I'm not sponsored by any of these manufacturers, but these plugins have all helped me greatly improve my production quality.
1. Equalizer Plugin
There's one Equalizer or EQ plugin that's been used by the whole music industry, not only for its transparent sound, but also for its ease of use, and that's the Fabfilter Pro-Q3 Equalizer. Fabfilter is a Dutch plugin company that makes amazing plugins with a sleek interface and many powerful features.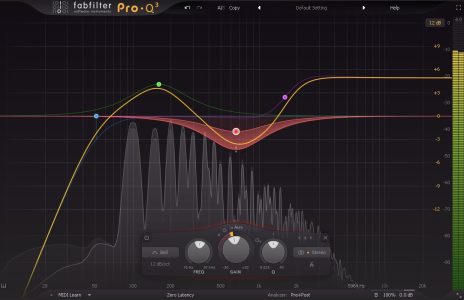 A great-sounding equalizer plugin is indispensable in the toolkit of every music producer. Finding frequencies to boost or cut becomes a breeze thanks to the built-in frequency analyzer. In addition, you can listen to each individual band by clicking on the small speaker symbol, ideal for tracking down those pesky resonances.
The Fabfilter Pro-Q3 is a modern, transparent EQ and not a clone of an authentic 'vintage' hardware device, which makes it useful in any situation. One extremely useful feature is that every band can be used dynamically. Meaning, you can boost or attenuate depending on how loud the signal comes in. You can use this to tame specific notes of a guitar, for example, or to limit the sharp 's' sounds of a vocal track.
2. Compression
In addition to equalization, compression is the most used tool during the mixing phase. Every DAW has its own compressor plugin, but often the quality leaves a lot to be desired. Also, not every compressor plugin is graphically helpful to look at, some don't even have meters!
The first plugin I bought is the Waves H-Compressor. This one's part of Waves' Hybrid Line and models an analog compressor. You can choose from 4 different analog emulation modes, or you can disable it entirely for a more transparent sound.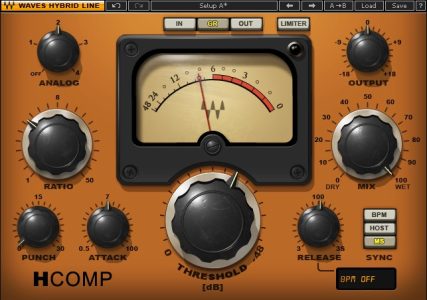 The H-Compressor has a built-in VU meter, which makes it really easy to see how much compression you're actually using. The unique thing about this compressor, and I haven't seen this on any other compressor ever since, is that the release time can be linked to your DAW's tempo. You can set the release time to quarter notes when you're compressing a kick drum, for example, so it releases just in time for the next kick.
Another handy feature is the Dry/Wet knob, so you can use parallel compression in an instant. Parallel compression doesn't sound as good with every compressor plugin, but in this case, it works exceptionally well. It's also my favorite sidechain compressor. It even features a built-in limiter!
All Waves plugins come with a selection of presets and a powerful A/B function. This is ideal to compare attack and release times, which is difficult to hear for many beginning and intermediate producers. Waves plugins are also practically on sale pretty much 24/7 so keep an eye on their site. Most of the time, you can get this plugin (and many others) for as low as $29.
3. Reverb
Reverb is another essential plugin no music producer can live without. There is an abundance of reverb plugins to be found online, but there's one I practically use on every track, and that's the Valhalla Vintage Verb. You'll find Valhalla plugins on every famous producer's hard drive, and that's not just for its looks. Valhalla makes algorithmic reverb plugins, which allow you to recreate basically any room in existence and beyond.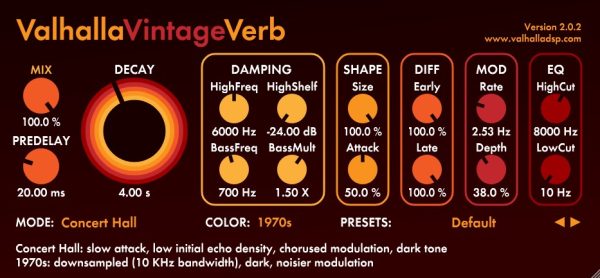 This plugin comes bundled with a huge collection of presets and different reverb models like plate, room, concert hall (my favorite), and many more. It's a lightweight, plugin and every knob can be automated. Vintage Verb has a friendly user interface with an incredible sound that can be bought, like all Valhalla Plugins, for an extremely fair price of $50,-. In addition to Vintage Verb, Valhalla Room is another widely used reverb plugin, so go ahead and download the trial version to see how you like it yourself.
4. Delay
In addition to Reverb, Delay or Echo is another extremely important plugin for music producers and mix engineers. My go-to plugin for Delay is Echoboy by Soundtoys. Another famous plugin, used by every music producer out there, and for good reason. This plugin emulates many vintage echo devices like tape recorders, digital-delay units, and guitar pedals. Soundtoys is known for its authentic analog sound, and this plugin comes very close to the real deal.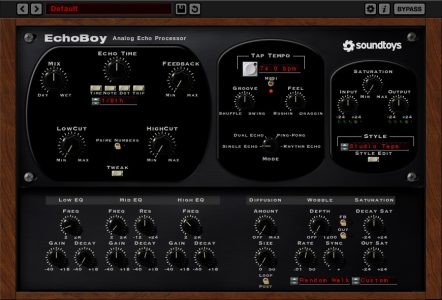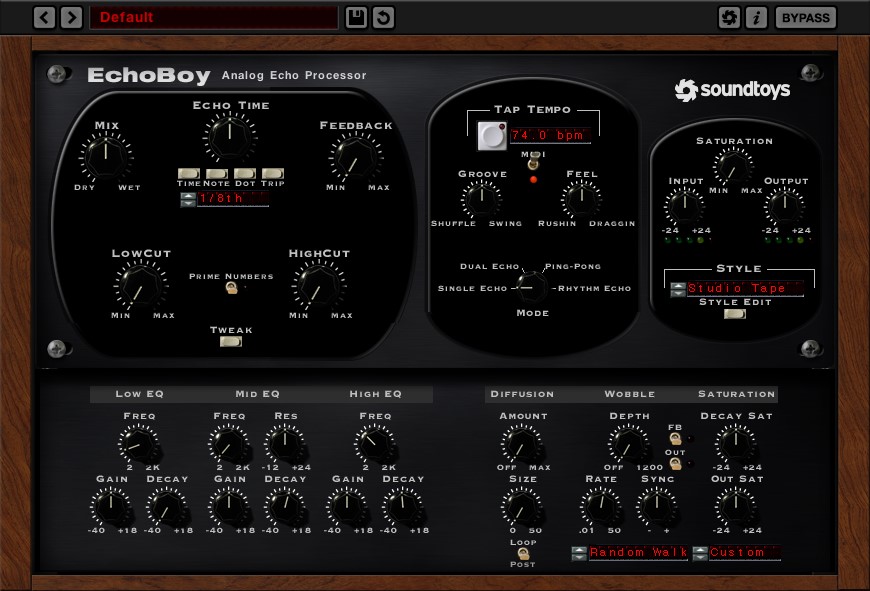 Echoboy has everything a delay plugin needs like filtering, mono, dual, ping-pong and rhythm echoes, LFOs, saturation, and EQ. You can even make it groove by adjusting the Shuffle and Swing controls. And of course, you get that classic pitched tape delay effect by automating the delay times.
Soundtoys plugins are a bit more expensive, but their complete bundle is usually discounted on Black Friday. This is true for every manufacturer, by the way.
5. Distortion
Another incredible plugin by Soundtoys is Decapitator. This is, in my opinion, the best-sounding distortion plugin on the market. This is the only plugin that truly sounds 'analog' and that is rarely seen these days.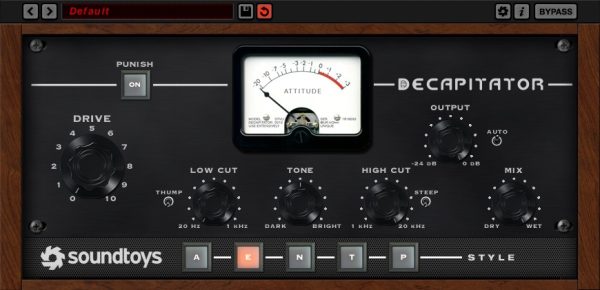 Decapitator is simple to use with a Drive, Output, and Mix control as well as a tone control and low- and high-cut filters. You can choose from 5 different types of distortion in addition to a very powerful 'Punish' knob, for total annihilation.
Distortion is the number one way to give energy to a track, and it's indispensable in electronic music to give your songs that analog edge. You will not easily come across a better-sounding distortion plugin, but that's something you need to find out for yourself, of course by demo'ing it out.
6. Reference Plugin
Maybe I should have put this one on top of the list, as this plugin will increase the quality of your productions like no other. I'm talking about Reference from Masteringthemix. With this plugin, you can load in reference tracks of your liking to compare them with your current track.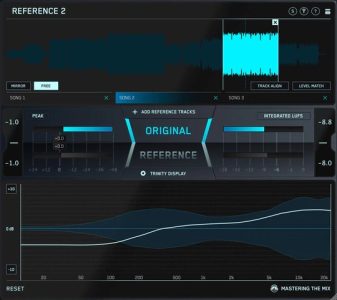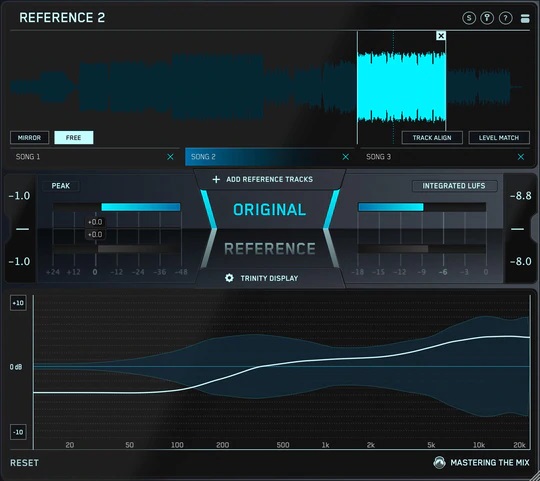 Referencing is often neglected by beginning producers, but it is definitely a crucial step in your quest to create better-sounding music. A smart thing about reference is that you can select loop points and that each track will be 'Loudness Matched' to sound equally loud as your current production. The white line at the bottom indicates if your track has more, or less, energy in a particular frequency range.
Do you notice that your tracks have too little highs compared to your reference? Then you know what to do about it. It's even possible to isolate a frequency range, such as the low end, to figure out problems in your track compared to the reference.
7. Mastering Plugins
At the start of your career, you will mainly master your own tracks. In order to come along with other professionally produced tracks, it is useful to ensure your tracks can compete. A mastering plugin, like Izotope's Ozone, is therefore indispensable in the production process.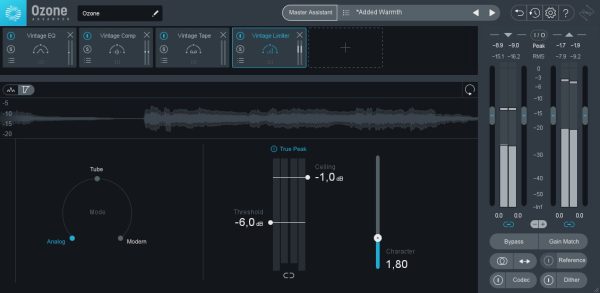 Ozone has everything you will likely need in order to deliver professional-sounding masters. It has plugins like exciters, stereo-imagers, dynamic EQ and limiters, to get the best out of your tracks. Ozone even has an Artificial Intelligence mastering assistant feature that suggests settings to optimize your track. Even scrolling through some presets gives you some useful insights into the mastering process.
Ozone comes in three different packages: elements, standard and advanced. I would suggest you start out with elements at first and upgrade to a more extensive package over time.
8. Synthesizer Plugin
I think we've covered the most essential effect and mixing plugins by now. Lastly, I want to show you one synthesizer plugin as well. The final quality of your tracks depends greatly on the quality of your source. An excellent-sounding synthesizer plugin plays an important role in achieving great-sounding tracks.
I recommend getting started with one synthesizer plugin, and really getting to know its ins and outs. I started out with Lennar Digital's Sylenth1. And even though I own many incredible-sounding hardware synthesizers, this is still my go-to synthesizer plugin. Sylenth1 is a subtractive synth that can be used to create 90% of all the sounds you're ever going to use. If you master this synth, you can master them all.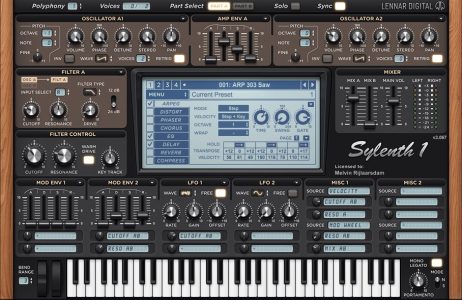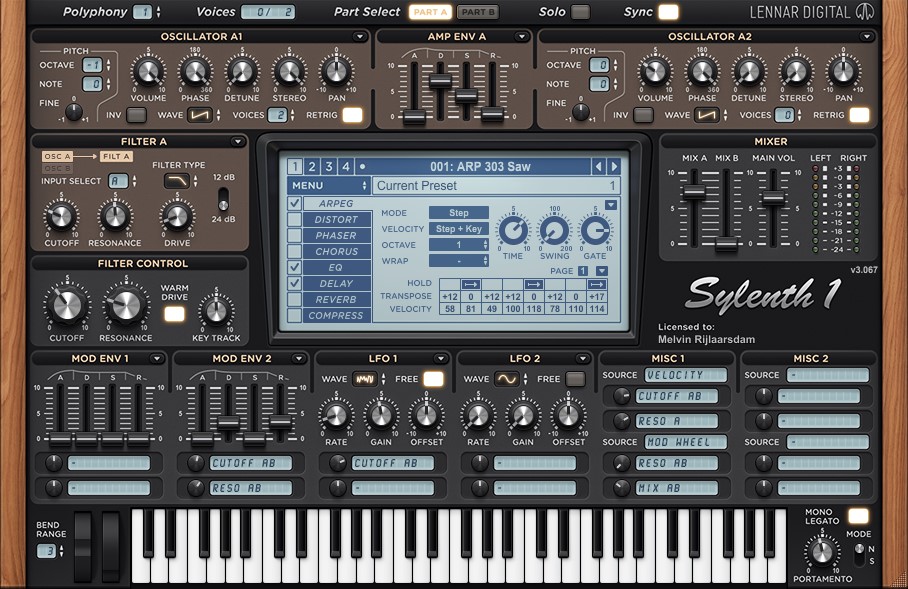 Many stock synthesizers that come bundled with your DAW do sound a bit cheap, which makes your track sound less high-end as well. I think Ableton Live Suite is the exception to the rule with synths like Wavetable and Analog that sound amazing, but in most DAW's the quality is often disappointing.
You can rent-to-own Sylenth1 for less than €10,- a month, which makes it a no-brainer for any serious music producer.
Wrap Up
That's it for this list of 8 essential plugins every music producer needs. Of course, there are tons of other specialized plugins available, but I would leave that for a later date. If I were starting again from scratch, I would begin by getting Fabfilter Pro-Q3 in addition to Valhalla Vintageverb. These are the plugins that helped me improve my productions to a big extent. Make sure you learn these plugins in and out before you move on to the rest.
Of course, there are no rules, and I suggest you do some research on your own. Try out a few demos and watch some tutorials on YouTube. But don't linger too long in your search. In the end, it's all about producing better-sounding music, and a plugin is just a tool to help you achieve that goal.
Good luck on your music production journey, and don't hesitate to reach out to me if you've got any questions. If you think I've missed out on some essential plugins, just let me know in the comments, I'd love to hear your thoughts!