There are lots of distributors to choose from nowadays. They can all get your music on Spotify. But there are some differences. Why pick one distributor over another?
CD Baby v.s. Distrokid v.s. LANDR
CD Baby was one of the first music distributors that could deliver your music to the masses. It has stood the test of time and lots of people still use it to this day. Distrokid is another famous distributor that's often picked for its low pricing. LANDR is known for its AI Mastering service, but their music distribution service is actually one of the biggest on the market right now.
What are the advantages and disadvantages of these services and which distributor should you choose for your music?
CD Baby has 2 packages: single or album release with one additional Pro version for additional monetization options. The album plan offers the possibility to distribute CDs around the world with a minimum order amount of 100 CDs.
All packages allow you to monetize via YouTube's Content ID system, sync licensing and Facebook and Instagram stories. You get access to various marketing tools with Show.co.
The Pro plan offers worldwide publishing royalty collection and song registration.
You pay once, per release. $9.95 for a single and $29 per album. I wouldn't recommend the Pro version as you can easily register the songs yourself with your local PRO (Performing Rights Organization).
CD Baby does keep 9% of your digital distribution revenue and requires a UPC code which costs an additional $20 per album or $5 per single.
Distrokid is a popular distributor because of its unlimited uploads for a small yearly fee. Its services are slightly faster than CD Baby but delivery times may vary.
If you upload your music 3 weeks before its release date you can submit your music to Spotify playlists. This is only possible with the Musician Plus or Label option though.
The basic Musician subscription allows only 1 artist to distribute music. The Musician Plus subscription allows for 2 artist or band names and customizable release / pre-order dates. The Label option allows distribution for 5 to 100 artist names.
Distrokid offers various options such as YouTube Content ID but it will cost you an additional $4.95 per year plus 20% of your YouTube ad revenue per song. The downside to Distrokid is that your music will disappear if you stop paying the annual fee. There is an option to keep your music online permanently but it will cost you $29 per song.
Also, their support system is basically a collection of FAQ
The Musician subscription for 1 artist's name costs $19.99 per year, the Musician Plus subscription costs $35.99 per year and the Label option costs $79.99 per year. UPC codes are included for free.
You keep 100% of your earnings but have to pay for extra's like YouTube Content ID.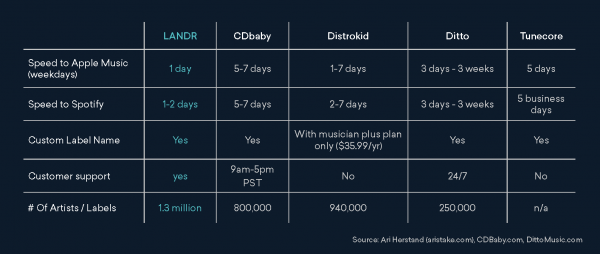 LANDR is one of the biggest music distributors out there. 1.3 million artists are signed up for LANDR distribution. They offer 3 packages: Lite, Complete and Unlimited. The Lite option is similar to CDbaby as you pay per release. It costs $9 per single or $29 per EP / Album. They do take a 15% commission, but UPC codes are included.
The Complete package costs $20 per year and works as a discount for every release. A single release now costs you $5 per single or $19 per EP / Album. The commission is also lowered to 9% and you can upload as 3 different artists.
LANDR's Unlimited distribution option costs $89 per year but has no additional cost per release and 0% commission. This is similar to Distrokid but with the benefit that your music stays online if you cancel your subscription. You will even continue to make money after you cancel your subscription. This package will work for 7 different artist names.
You can pay for a cover license which costs $15 per song and takes the trouble away of clearing mechanical licenses yourself. If you need more artist names it will cost you an additional $10 per year per artist.
Royalties are paid out every month and you will get lots of options such as YouTube & Soundcloud Content ID, Facebook & Instagram monetization, Beatport distribution (except for the Lite package), TikTok distribution, and various other tools.
LANDR distribution is the fastest distributor out there and can deliver your music to Apple Music in just 1 day and Spotify in 1 to 2 days. They also have excellent customer support.
Conclusion
Now that we know these distributors a little better. Let's get back to the question: which distributor should you choose for your music?
It all depends on how much music you're planning to release. If you only release 1 or 2 singles a year, then CDbaby or LANDR might be a better option. If you release more than 2 singles a year Distrokid might be a good option, especially if you're just starting out as it is definitely the cheapest option.
But if you are getting more serious about your music and want excellent services and support with no hidden fees then LANDR's Unlimited distribution option is clearly the winner here.
What music distributor are you using? Let me know in the comments below.
Good luck getting your music out there!