Technicians are creative too!
Everybody knows that musicians are creative people. When you think of a technician you picture someone that is carrying heavy electronics and is fighting through dense forests of cables. Someone that knows the laws of physics and who learned to handle a soldering iron at the age of 4. But if you ever take a closer look you can actually compare them really well with musicians. Technicians are just as creative!
I will give an example of my own practice. Lately I was doing lighting on a drum & bass gig. I spend around 4 hours designing the lighting plot, rigging and connecting fixtures and programming the lighting desk. I was working with 2 colleagues, a video jockey and a laser technician. Up to 5 minutes before show time, they were still focusing beamers, fixing computer problems and patching network cables.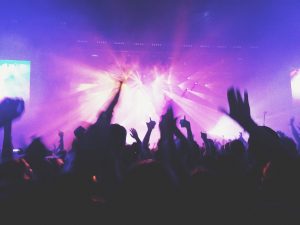 Matching colors
After all problems were resolved and the guests were slowly filling up the hall, I asked the VJ how he wanted to work with colors. The LJ and VJ usually try to match colors to get a tighter looking show. The VJ told me it was no big deal to follow the lighting. I didn't mind following the visuals either but this was the agreement we made.
Halfway into the night when the PA was blowing your pants off, the laser tech showed up at his desk. I forgot to ask him about his color schedule but this seemed unnecessary. When the lasers mixed in with the lighting and visuals, something magical happened. There was a collaboration going on between video, lights, and lasers. When one of us changed colors, the rest followed or held on to their previous color to create contrast.  If somebody wanted to make an accent the other made room for him and this went on for the rest of the night. At this moment, I realized that this way of working together was exactly the same as playing in a band. Three disciplines, each with their own identity came together to make a bigger whole.
Doing lighting is like drumming in a band
In addition to designing a show, programming, and troubleshooting, technicians are extremely creative during show time. The exact moment of me standing behind a lighting desk makes me feel like the drummer in a band. My job is to serve the music and enhance it where possible. I'm part of a musical co-operation, a creative one!